Scientifica HyperScope
Perform two-photon imaging, three-photon imaging, photostimulation and fluorescence lifetime imaging with the HyperScope multiphoton system.
Available with a variety of scanning configurations, the SliceScope or VivoScope frames and a diverse range of detectors, this is a versatile and flexible system that can be tailored and upgraded to suit your experimental needs.
The HyperScope is available as a single or dual scan head with galvo-galvo, resonant-galvo or galvo-galvo-resonant scan mirror configurations. Detectors available include the MDU, MDU XL, ChromoFlex and FLIM Upgrade kit. Take a look at our buyer's guide to see our full multiphoton range and all scan head, frame and detector options available.

Applications
Expand
(in vivo or in vitro)
Three-photon imaging
Two-photon imaging
Second harmonic generation
Two-photon photostimulation
Fluorescence lifetime imaging
All-optical interrogation of neurons
Benefits
Expand
Dual scan head
Two light paths enable simultaneous multiphoton imaging and photostimulation with exceptional performance.
Various scanning arrangements

The scan mirrors on the imaging path can be configured as a galvo-galvo, resonant-galvo or galvo-galvo-resonant scan head.

Extended wavelength range

The HyperScope optics are coated for wavelengths of 1300 nm and beyond to give you more experimental flexibility, with proven three-photon capability right off the shelf.
Image up to 4 colours

Compatible with our ChromoFlex detection module to enable multiphoton imaging of up to four colours with highly-sensitive GaAsP and gated GaAsP photomultiplier tubes.

Deep imaging

Outstanding images of the finest structures deep within your sample. Thanks to multiphoton optical sectioning, stunning three-dimensional reconstructions can be easily produced.

Pioneering slim design

The compact footprint and flexible design of the multiphoton system allows easy integration with other techniques such as electrophysiology.

Easy access to the light path

Simply remove the cover of the scan head to gain access to the complete light path.

Optional side port

If only one scanning path is mounted, the second mounting position offers access to a side port with a standardised optomechanical interface, allowing researchers to add a custom scan path.

Upgradeable to FLIM
Compatible with the Scientifica FLIM Upgrade kit for simultaneous fluorescence intensity and fluorescence lifetime imaging, in up to two colour channels.
HyperScope in vitro configuration 360° view
Three-Photon Imaging
Expand
The HyperScope can do three-photon imaging without requiring any modifications to the scan head or relay optics. See some of the data acquired using the HyperScope and MDU XL here.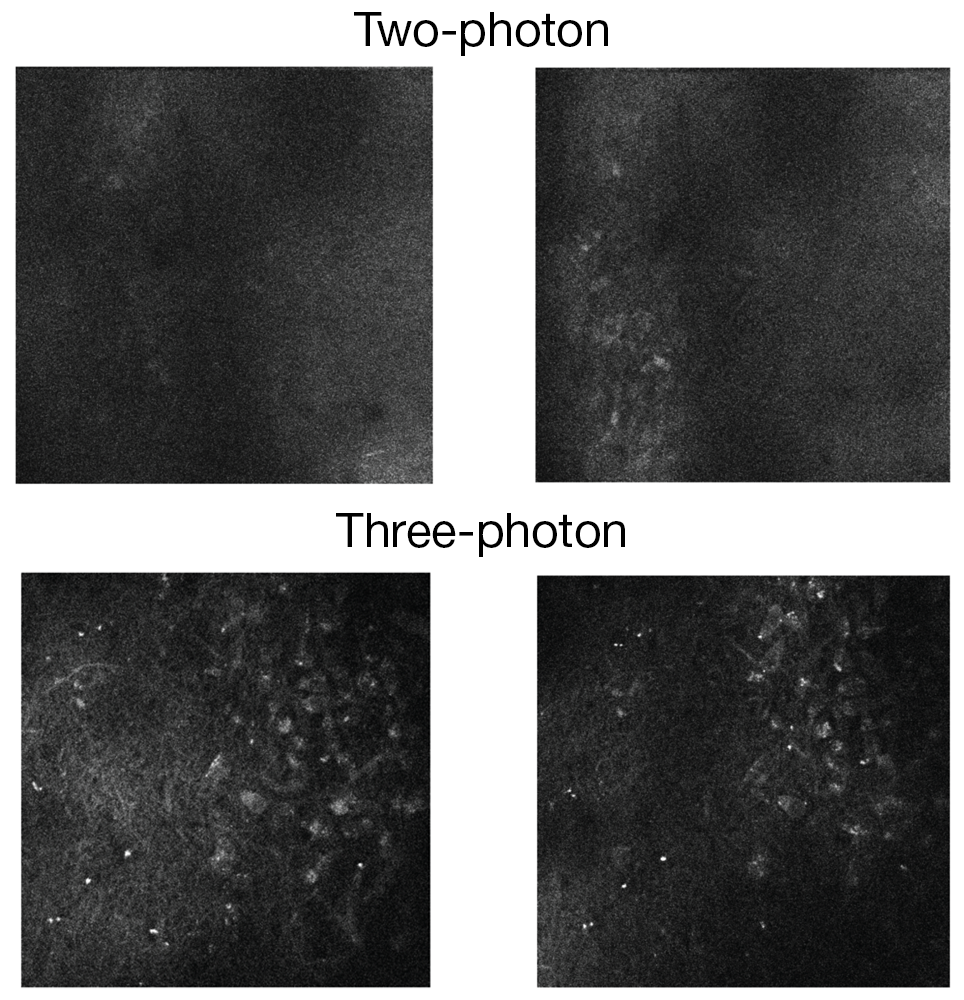 Olfactory bulb of a transgenic mouse expressing GCaMP6f in most neurons. Imaged using three-photon excitation. Imaged through the intact dura, through an acute craniotomy.
In Vivo Two-Photon Images
Expand
Video: in vivo 6DPF zebrafish larvae expressing GCamp6 imaged using the HyperScope


Two-Photon Cell Images
Expand

From left to right: Bovine pulmonary artery endothelial cells labelled with MitoTracker® Red CMXRos for mitochondia, stained with Alexa Fluor® 488 phalloidin for F-actin; Muntjac skin fibroblast, F-actin was labelled with green-fluorescent Alexa Fluor® 488 phalloidin; Mouse kidney section stained with Alexa Fluor® 488 wheat germ agglutin - the filamentous actin prevalent in glomeruli and the brush border were stained with red-fluorescent Alexa Fluor® 568.



Performance Measurements
Expand
These measurements were taken with two HyperScope systems, employing a Nikon 16X 0.8 NA 3 mm WD objective at 850 nm. The measured field of view at a scan angle of ±15° was 1 mm.
The Point Spread Function measurements (below) were carried out by imaging 0.2µm polystyrene fluorescent beads mounted on the surface of a coverslip. From this figure you can see how our unique relay lens system enables having comparable resolution across the field of view.
The relay lenses also provide a constant intensity across the field of view, which can be observed on both the 3D surface plot and the 2D plot profile below.


Software
SciScan is Scientifica's award-winning two-photon acquisition software designed and built by Scientifica in collaboration with researchers.
Scientifica's multiphoton hardware is also fully integrated into Vidriotech's ScanImage software packages. This software is developed by researchers at the HHMI Janelia Farm research campus specifically for neuroscience applications.
The HyperScope is also available with other custom software.
Schematics
Expand
In vitro setup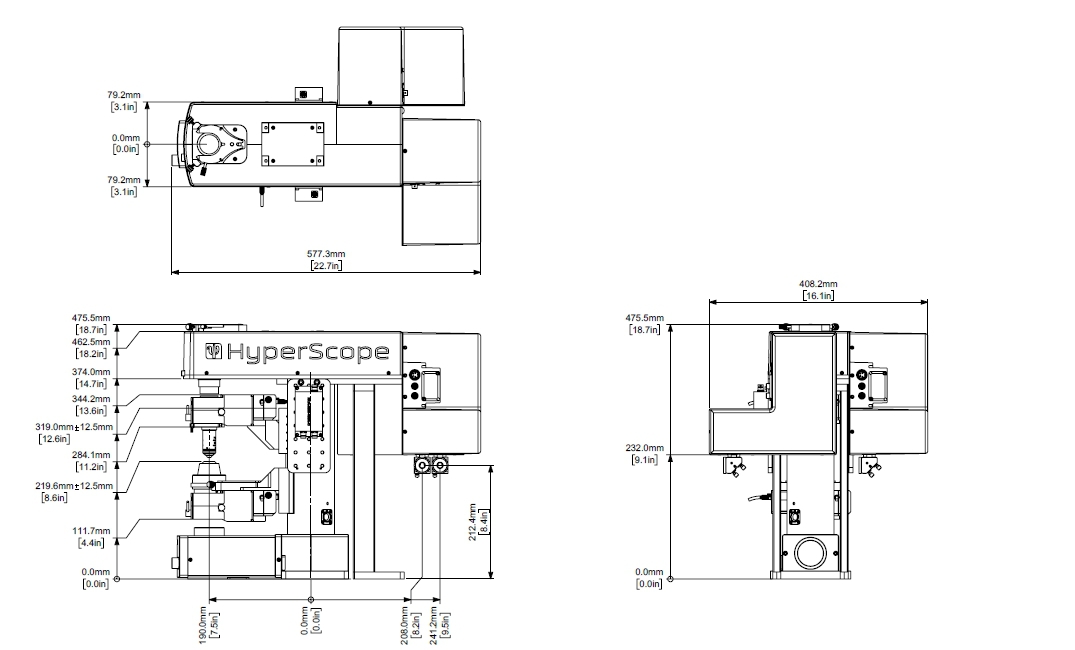 In vivo setup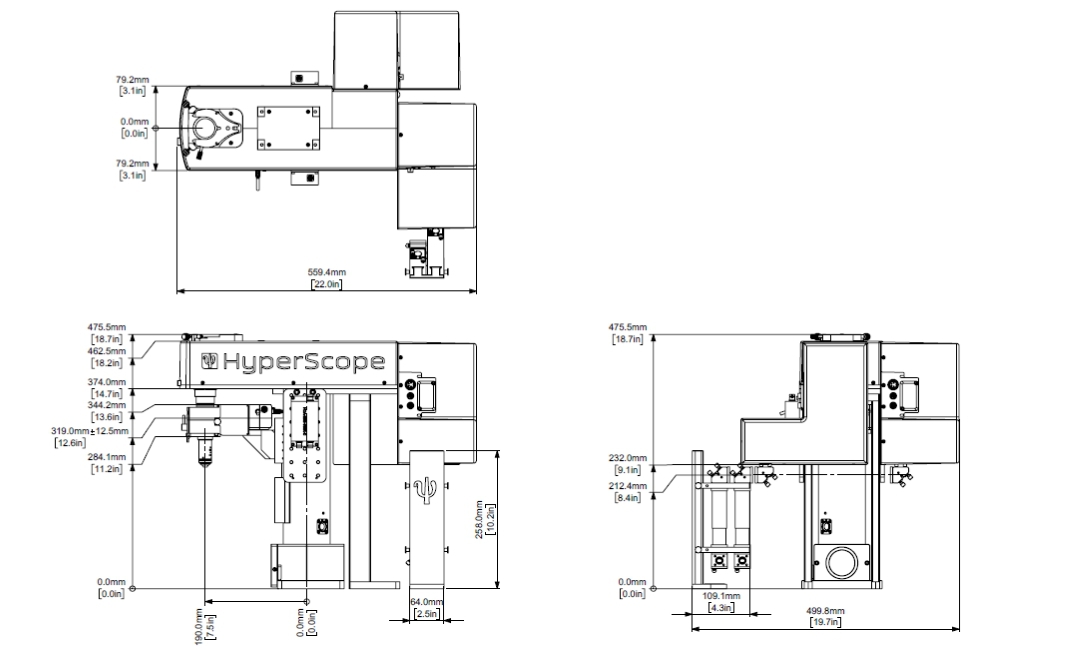 Movable in vivo setup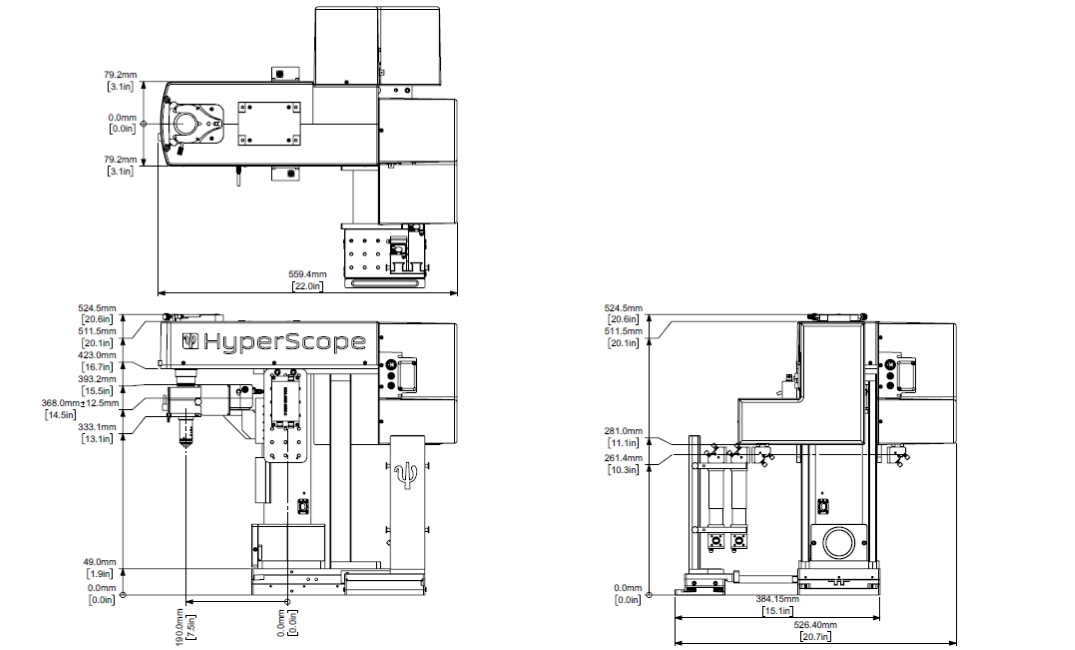 Extended movable in vivo setup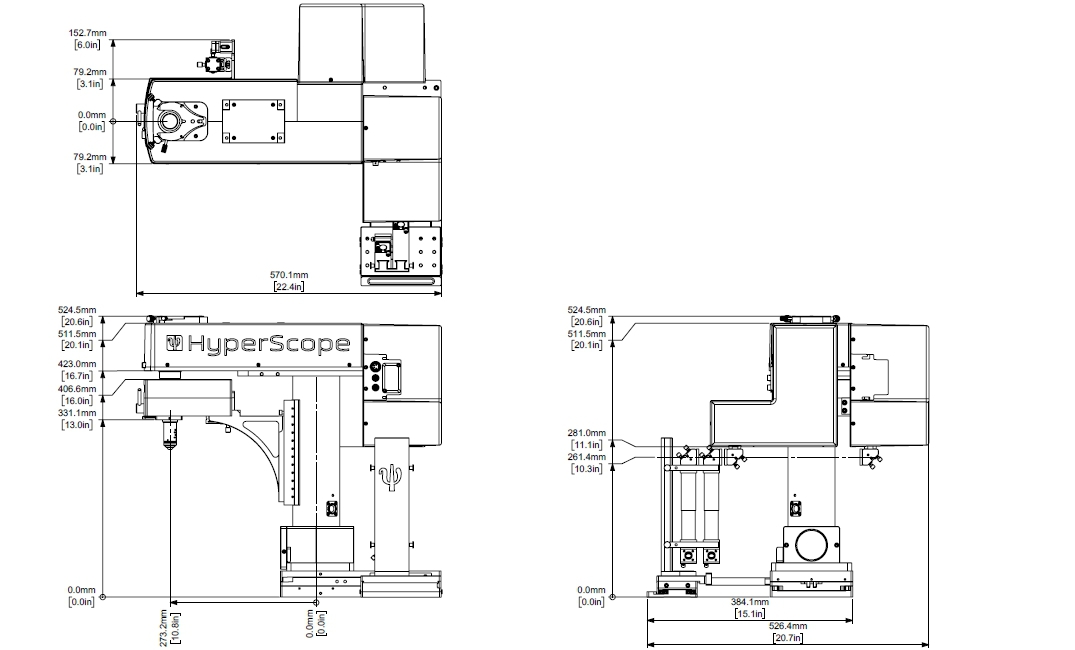 Research papers
Expand
Zheng, L., Yu, M., Lin, R. et al. Rhythmic light flicker rescues hippocampal low gamma and protects ischemic neurons by enhancing presynaptic plasticity. Nat Commun 11, 3012 (2020). https://doi.org/10.1038/s41467-020-16826-0