Scientifica HoloStim-3D
当前最高性能的多光子全光操控系统实现了在高空间分辨率下刺激更大的区域,覆盖更多的神经网络
Scientifica的HoloStim-3D系统在现有的HyperScope多光子显微镜上整合了当前业界最领先的SLM(空间光调制器)模块,从而实现对神经网络前所未有的更大区域和更高精度的全光调控操作。
Investigate neuronal circuits with 3D precision
The HoloStim-3D enables you to perform more complex photostimulation experiments than those that are possible with random-access two-photon or widefield photostimulation.
Discover the roles of neuronal subtypes and brain circuits by simultaneously targeting multiple cells with cellular resolution.
You can observe and record comprehensive network activity by combining precise cell stimulation and imaging with the HoloStim-3D.
By selectively photostimulating only the target cells and rapidly switching between stimulation patterns, you can better understand neuronal interactions in networks.
Benefits
Selective and accurate targeting
The industry-leading resolution of the Holostim-3D allows cell bodies and subcellular structures to be specifically targeted with minimal off-target activation. This gives you cleaner, more accurate data that you can draw conclusions from.
Analyse larger neuronal networks
Target cells in larger brain regions to understand larger neuronal networks. The large field-of-view of the HoloStim-3D also allows you to use a higher magnification and resolution objective and still achieve the required field-of-view.
Freely combine different imaging and stimulation wavelengths
Being able to excite or image target cells expressing different opsins or fluorescent proteins increases your experimental flexibility.
Perform simultaneous two-photon imaging and photostimulation
Activate and image hundreds of individual cells simultaneously to interrogate neuronal circuits and identify the role of neural subtypes in brain circuits and behaviours.
Deeper imaging and stimulation
Specifically target cells and subcellular structures in layer 4 and beyond, achieving high-quality images.
Mimic neuronal firing
You can quickly switch stimulation patterns to better mimic neuronal firing, improving the accuracy of your data.
High laser transmission
Keep your costs to a minimum by activating the same number of cells with a lower power laser.
User-friendly design
The modular design means the HoloStim-3D is seamlessly integrated with the Scientifica HyperScope, a proven multiphoton imaging system, so you can easily upgrade to SLM capabilities and start generating high-quality data faster.
HoloStim-3D on the HyperScope 360° view
Mouse layer ii/iii neurons expressing GCaMP6s (calcium indicator) and C1V1 (red-shifted channelrhodopsin) are simultaneously stimulated using the HoloStim-3D, while their calcium responses are imaged using resonance two-photon imaging on the HyperScope. In the total 100 cells were stimulated at 6 nJ per cell, using a spiral pattern. Data acquired by Kelly Sakaki (Scientifica), Robert Lees and Adam Packer (both University of Oxford).
Example data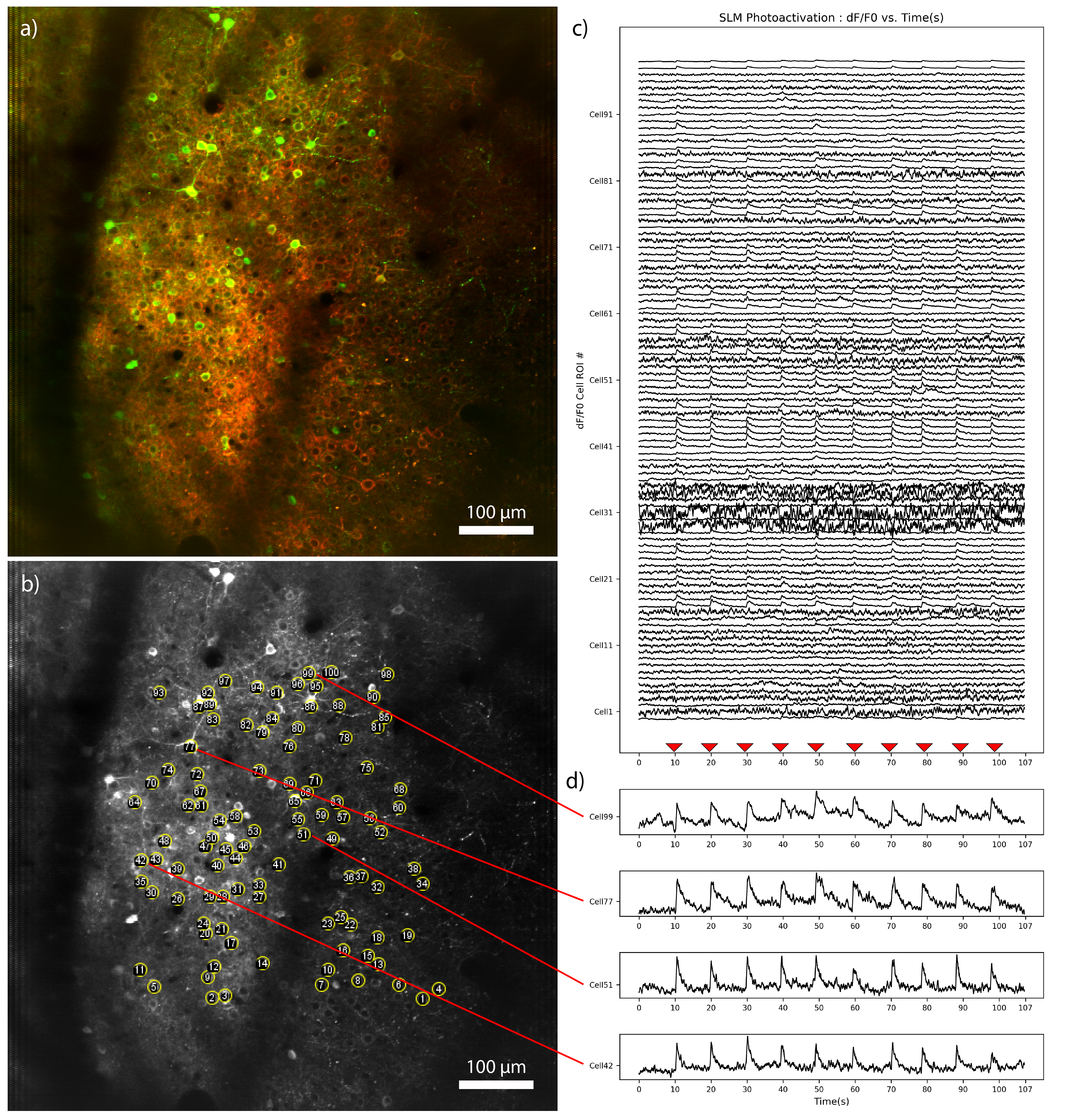 Fig. 1. (a) HoloStim-3D targeted cells within a mouse brain, with cells transfected via viral vector, and expressing GCaMP-6S and C1V1 for photostimulation. In the total FOV (745 μm), 100 cells were selected within an area of 450 μm and targeted for photostimulation with a spiral spot of approximately 6 mW/cell. (b) Each cell is identified with the target label and the corresponding activity observing during imaging with the resonant scanning mirror is shown in the line plots in Fig. 1c,d. Simultaneous photostimulation of each cell was activated 10 times following a 10 s lead-in over a total time of 110 seconds. The photostimulation was activated for 250 μs and the power was controlled via software control connected to a total power control (TPC) module onboard the Amplitude Satsuma (20 W output). Data acquired by Kelly Sakaki (Scientifica), Robert Lees and Adam Packer (both University of Oxford).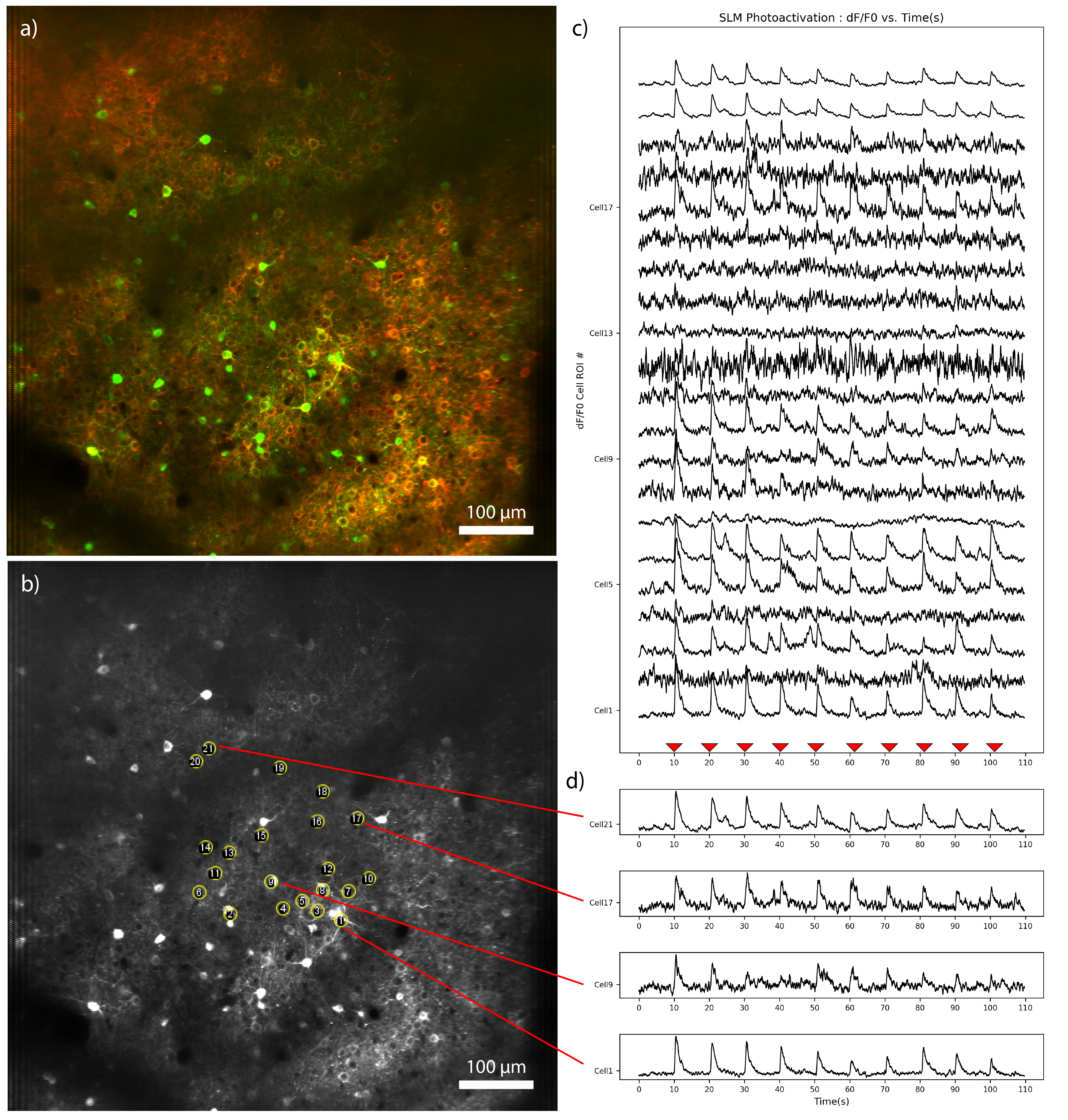 Software integration
Adopting SLM technology is made easier with full integration of globally-recognised ScanImage software, saving you time so you can start experimenting faster.
Design & Specifications
Wavelength range standard

Wavelength range standard

920 - 1064 nm
Wavelength range optional

Wavelength range optional

700 - 1300 nm
Stimulation point resolution

Stimulation point resolution

<2.5 microns
Array size

Array size

17.7 x 10.6 mm
SLM response time

SLM response time

3.3 ms
SLM array resolution

SLM array resolution

1920 x 1152 pixels