Chromacity 1040
The Chromacity 1040 is an air-cooled, compact, ultrafast ytterbium fiber laser providing exceptional performance at 1040nm, ideal for a variety of multiphoton imaging applications.
For more information, visit: http://www.chromacitylasers.com/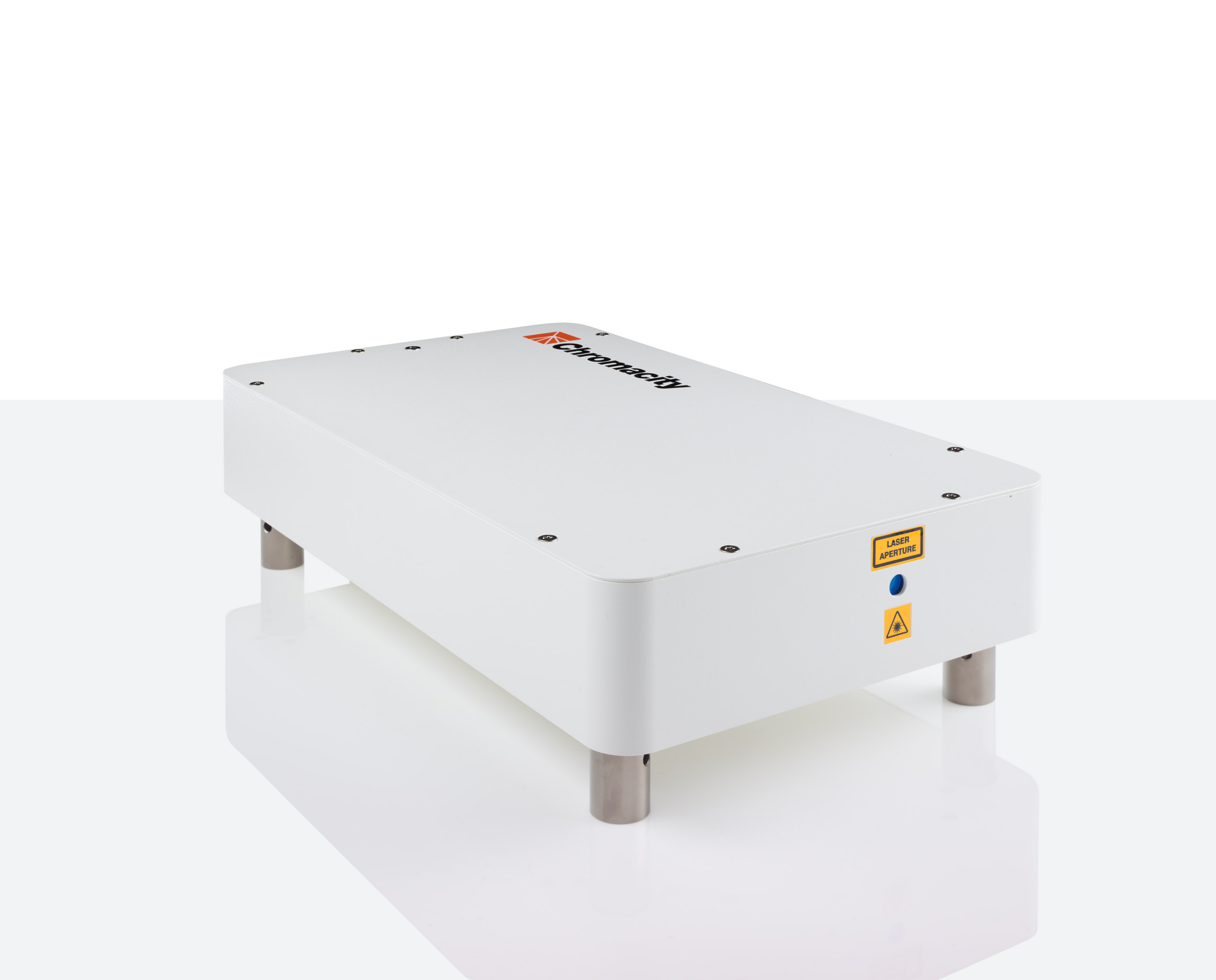 Faster results
The Chromacity 1040 femtosecond laser system doesn't need time to warm up and doesn't require alignment, allowing you to obtain results significantly sooner.
Ideal pulse duration
The Chromacity 1040 laser system delivers pulse durations as short as 100 fs which make it ideally suited to all types of two-photon imaging techniques.
High average power
The high average power that the Chromacity 1040 delivers (up to 2.5 W), means that the laser light can be split between more than one microscope setup.
Small footprint
With a compact footprint the size of a sheet of A4 paper, the Chromacity 1040 can replace traditional ultrafast systems and free up valuable space on a lab bench.
Exceptional reliability
Machined from a single block of high-grade aluminium, the Chromacity 1040 has been designed specifically to deliver ultrashort pulses with outstanding reliability.
Flexibilty
An intuitive web-based user-interface allows for easy control of the Chromacity 1040. This relaxes the constraints of having to be near the laser system to use it.
Excellent beam quality
The Chromacity 1040 delivers a beam quality that can be easily re-shaped and aligned into almost all microscope setups.
Easy integration
The standard model operates at a pulse repetition frequency of 100 MHz, making it easy to integrate with a range of diagnostic equipment.
Low cost
Due to the removal of the complexities of traditional ultrafast laser systems, while maintaining the high performance characteristics.
Applications
SHG and multiphoton microscopy
Light sheet microscopy
Optogenetics
Pump source for nonlinear optics (OPOs, 4-Wave mixing)
THz generation
Time resolved experiments (e.g. TCSPC/FLIM)
Output wavelength

Output wavelength

1040nm
Pulse duration

Pulse duration

100 fs - 1.5 ps (factory set)
Output power

Output power

500 mW or > 3.5 W versions
Pulse energy

Pulse energy

Up to 25 nJ
Beam diameter

Beam diameter

0.5 - 1.2 mm
Beam quality

Beam quality

M² < 1.2, divergence < 2 mrad
Repetition frequency

Repetition frequency

100 MHz (80 MHz also available)
Control interface

Control interface

Ethernet and web page. Serial port (for control via LabView/MatLab)
Cooling

Cooling

Air cooled (no water cooling required)
Dimensions

Dimensions

426 x 250 x 108 mm (laser head). 483 x 285 x 88 mm (control unit – 19" 2U rack mount)